Case Studies
Where we share stories from real clients about our capabilities
Entering one of the biggest markets can seem very complicated. Vitalynx, a big company in Sweden, desired to challenge and enter the Chinese market. Nordic Hub China understood the hardships and difficulties it comes with, creating procedures to ease market entry.
With our team, resources and experience in the market, we helped Vitalynx with the logistics set-up, import services, promotion and entry into major exhibitions such as CIIE, SIAL. As you can see from the pictures, the promotion of the first product from Vitalynx was very straightforward. We found consumers valued the design of a product, therefore we created a design made to be more attractive to the Chinese consumer's eyes. Additionally, we increased Chinese consumer awareness and engagement by setting up Vitalynx with an e-commerce platform, and etc. This gave Vitalynx exposure and understanding of the market, the firm now operates with a strong presence in the Chinese market.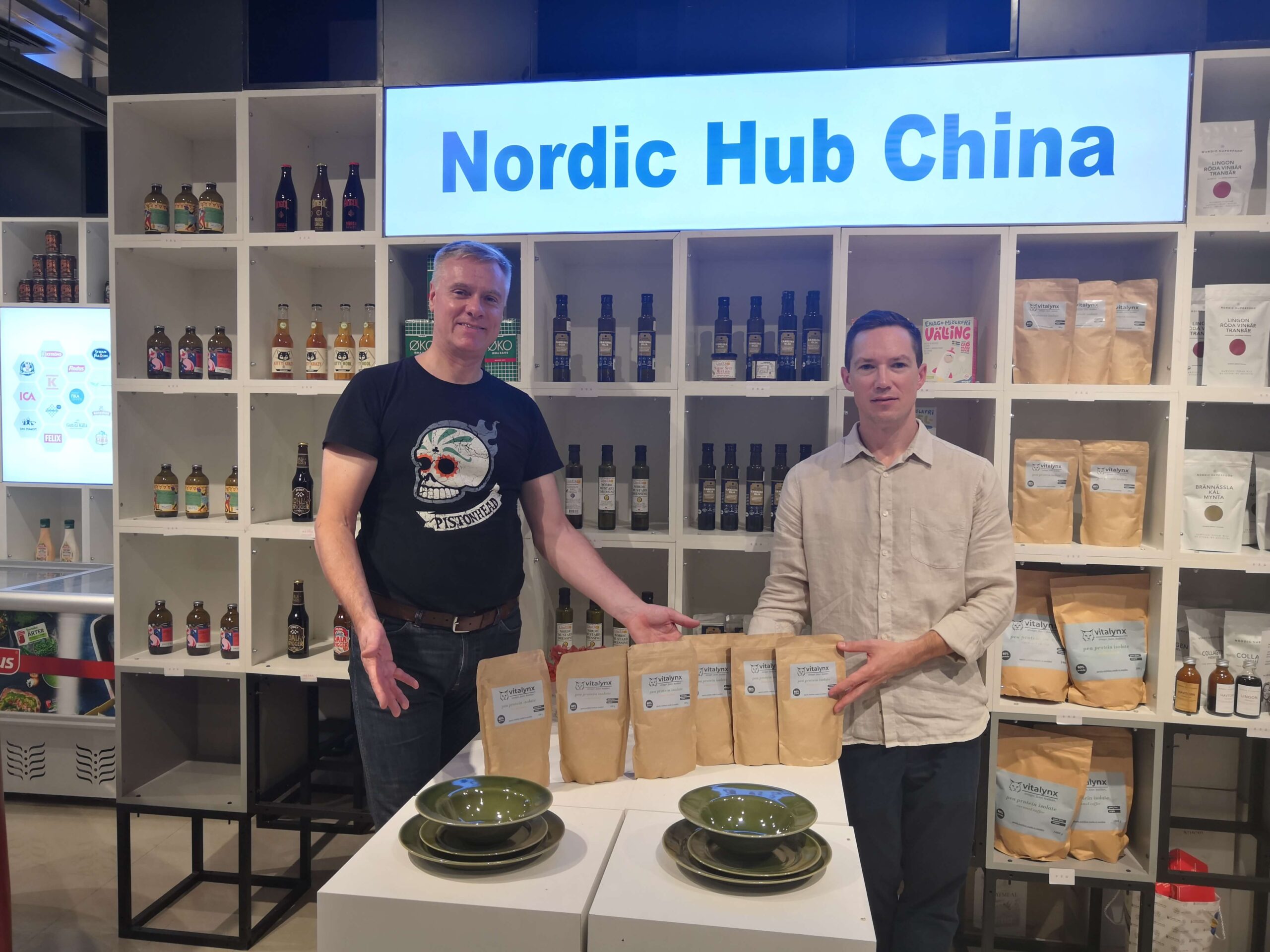 Back in 2010 Cold Hand Winery's founder, Jens Skovgaard, innovated a particular apple wine that is not cider nor the typical apple wine but a new, exclusive and more intoxicating expression. They don't use the traditional fresh fruit to make wine, instead the wines are made by frozen musts, which are crushed frozen fruits and destemmed into juice.
She looked to expand to this new market but had no idea how to promote, set up logistics or distribute. Cold Hand Winery needed to find a trustworthy partner that can provide guidance, support and relevant services as the businesses developed, such as helping them establish their market presence and communicate their product to the consumers.
Nordic Hub China provided Cold Hand Winery a firm stand in the market through participating in exhibitions, which involves China International Import Expo and other exhibitions. Moreover, we help Cold Hand Winery have a physical presence through exposing the products in the International Brands Pavilion, that is known to bring the most celebrated brands from various industries around the world into an integrated brand cultural experience. That reached the Chinese consumer with a new product launch through giving them a comprehensive experience to appreciate acclaimed brands from across the world. Additionally, we provided Cold Hand Winery: set up of their own office, warehouse services, trademark registration services and more.
At Big One Europe, they love good food, great wine and football. Therefore in their passion they wanted to honor the legendary football players Zoff, Rivera and Rossi.
Big One Europe needed to find a trustworthy partner that can provide guidance, support and relevant services as the businesses developed, such as helping them set up an online shop with a B2C business model.
We had Big One Europe work in multiple phases. This consisted of creating an online and offline presence, product promotion, logistic services, company set-up services, and etc. After accounting for all the aspects of entering the Chinese market they better understood the market and had the infrastructure to support their growth, therefore establishing a strong presence in the market. They continue to undertake growth initiatives.
Nordmarken's distillery was born out of the founder's joint passion in 2014 by Gunnar, Morgan and Ingmar. The distillery is operated by a highly qualified team that is experienced and passionate about whisky and other spirits. They make amazing drinks and spirits based on their own produced vodka and malt whiskey. The distillery is based in Varmland county surrounded by swaying barley fields and fresh water.
Nordmarkens had the desire and was going to break through the Chinese market, but they initially lacked the understanding of such a big market. To understand the market you need to account for the needs of the consumers, the product selection, consumers behavior, etc.
We gave Nordmarkens Distillery a customized market entry program made for Nordmarkens Distillery, the program included initial preparation, which consisted of market investigation, product selection, and technical evaluation. Moreover, in order to have a physical presence in the market, we set Nordmarken up by placing their products in our Nordic Hub China showroom. This showroom works quite efficiently as the transport is very convenient because of its proximity to the airport and railway station.
Uncharted Brewing Company
Uncharted Brewing Company is a small micro brewery in Southern Sweden. The journey of the company is just like a romantic story. The founder Diarmuid Reidy from Ireland and Linda Reidy from Sweden met in Ireland and fell in love over a craft beer. Their common love for good Food & Beverages is what brought them together and the idea of a microbrewery came alive.
International trade had a high barrier for companies unprepared especially Uncharted Brewing Company with the Chinese market. The company was in need of finding a trustworthy partner who had many years of experience in the market and has relevant knowledge of the market, from larger concepts to the finer details.
We provide an all encompassing market entry program, which consists of: strategic product evaluation, market investigation, test import, trademark registration, program management, major exhibition participation, distributions selection, etc. Uncharted Brewing Company has been given a strong offline, online presence in the market and a better understanding of the market for future strategic decisions.
"Lissellas" have for many years produced organic mustard. For many years their mustard seed has been grown locally and organically to produce tasty and authentic mustard, sauces and other delicious foods with their own recipes. "Lissellas" had the desire to spread the taste of Sweden to the Chinese consumers.
It's not easy to enter a completely new market. It needs time to grasp the market and discover their niche, in this case Lissellas's. The challenges that Lissellas faced included understanding the market, the consumer's need, the demand, what product will satisfy the consumer, etc. When you are exposed and provided guidance through this market, you will know how to adapt and succeed in this market.
We established a customized market entry program tailored only just for Lissellas. Within the market entry program, we have helped Lissellas design and customize products according to the Chinese consumer, example the Chinese doesn't recognize what "S-special", or Jul Senap" is, so we changed the product name to "Nordic Spicy Mustard" and "Nordic Honey Mustard", and"Nordic Salmon Sauce" which received a very high and positive reception from the consumers. We also have assisted Lissellas in an on/offline market presence, program management, major exhibition participation such as SIAL and China International Import Expo, trademark registration, import services as well as many more finer details.
Live-Streaming in China remains a dominant form of media. 550 million people are estimated to be tuning into livestreams on a regular basis. It has become a trend for many companies to adopt this approach for marketing.